THE UNIVERSAL SELF DEFENCE CONCEPT...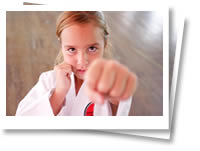 On the 1st May 1983, the original concept of Universal Self Defence (USD) was first introduced by the now President of the Universal Self-Defence Academy (Usda), Mr Peter Burke.
It was a natural progression to develop Universal Self Defence after Peter Burke had trained and taught martial arts for over 14 years.
Peter Burke's enthusiasm for the martial arts began in 1965, at the very early age of 8 years old, with judo, karate and boxing. Later on he also trained in kungfu and with 3 World Champion kickboxers Joe Lewis, Bill Wallace and Benny Urquidez. He was also awarded Black Belt degrees from hapkido and taekwondo masters.
After a very successful instructing career teaching taekwondo, Peter Burke could see the potential for starting a system of training that did not restrict itself by just promoting one style of martial art. His idea was to use all methods that proved to work best in order to provide more practical and universal self-defence. This then created both the concept and the name 'Universal Self Defence".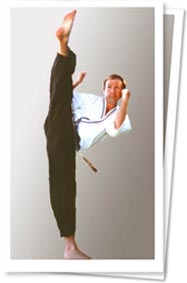 With the aid of modern sports science and through it's own research, the Universal Self Defence has since developed many of it's own ideas and methods. USD has evolved into a program that is easier to learn, safer and more practical for everyone.
Although the original concept was created by Peter Burke, the Universal Self Defence now grows and develops with all its dedicated instructors and members around Australia.
Since the formation of Usda, thousands of people across Australia from all walks of life have enjoyed and benefited from the Universal Self Defence training program. Many professional people including school teachers, law enforcement officers and security personnel have also enthusiastically given USD their strong support by becoming members and instructors.
USD now provides a vital community service that successfully attacks some of our society's biggest problems concerning violence, drug abuse, obesity and poor health.
Whilst teaching people how not to become a victim of violence, the disciplined USD training also encourages a more active, healthy and drug free lifestyle.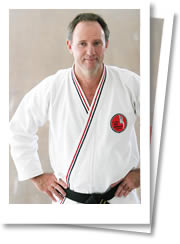 HISTORY OF MASTER PETER BURKE AND USD...
1965 First began martial arts training at 8 years of age with judo, then later in karate and boxing at a local Police Boys Club in Sydney Nsw.
1967 Pursued many different interests in between practising martial arts.
Became captain of Marist Brothers representative football team, handball team finalist, schoolboys chess champion and youngest to achieve bronze medallion in surf life saving.
1973 Trained in traditional northern style kung fu at Randwick.
1974 Studied yoga and meditation techniques.
1975 Started taekwondo and hapkido training at Maroubra, quickly becoming leading student.
1977 Awarded Black Belt in taekwondo by three 7th Degree Master Instructors.
First began professional instructing, opening a training centre in Randwick, Sydney.
1978 Awarded Instructor's certificate by Australian Taekwondo Federation.
Opened new centres and increased instructing to 7 days a week.
Taught at the Sydney City Taekwondo Headquarters, Maroubra, Randwick, Mosman and Balgowlah.
Become full time professional martial arts and self-defence instructor after retiring from the Department of Defence Services.
Moved to the Nsw Far North Coast to open 4 new training centres.
1979 Opened training centres on the Qld Gold Coast.
1981 Trained with Undefeated World Middleweight Professional Full Contact Karate Champion Bill Wallace.
1983 On the 1st of May, with over 14 years of martial arts experience, introduced new training concept and named it "Universal Self Defence."
Incorporated all methods and styles that proved to work best, well before MMA Mixed Martial Arts became popular, including taekwondo, karate, kung fu, judo, kickboxing, sports science etc;
Became Founder, President, Master Instructor and Examiner for the Universal Self-Defence Academy (Usda)
Over 100 students, including 5 Black Belts, enrolled in Usda.
Trained with undefeated World Professional Full Contact Champion Benny "The Jet" Urquidez and later again in 1988.
1984 Researched more sports science to improve physical exercise programs. Completed Fitness Leaders Course Levels 1, 2 & 3 with the Australian Council for Health, Physical Education and Recreation.
1985 Produced first publication of the Usda Instructor's Manual.
New Usda centres opened at Brisbane, Sydney, Hunter Valley and Illawarra.
1987 Usda spreads to Melbourne Victoria, making it a national organisation.
Produced first Usda instructional video.
1988 First 100 Usda Black Belts awarded.
World Karate and Kickboxing Champion Joe Lewis, also Black Belt Hall of Fame Fighter and Instructor of the year, martial arts movie star and living legend visits Usda. Whilst giving a seminar for Usda Black Belts, Joe Lewis was quoted as saying: "I've been all over Australia and this is the best club so far."
1989 Usda competition team formed to compete regularly in major freestyle and kickboxing tournaments and first Usda national tournament held.
1991 Introduced new Usda Instructor's Code of Ethics Agreement and improved safety standards with compulsory Instructor's Senior First Aid certification.
1992 200 Usda Black Belts awarded.
1994 Published first edition Universal Self-Defence Academy Member's Manual.
Awarded Usda 7th Degree Black Belt by Usda Board of Master Instructors.
1995 300 Usda Black Belts awarded.
Published new Usda Instructor's Manual.
1996 Started new computer database central register of Usda Instructors, Black Belts and members.
2000 Universal Self Defence web site first created.
2002 Web site establishes international following, consistently ranking in top ten for "self-defence" on all the popular global search engines whilst consistently holding No. 1 position in Australia.
Universal Self Defence featured on new national tv show, Body & Soul.
Usda instructional videos made available on dvd.
2003 New Usda competition team formed to compete with great success in numerous state, national and world championship events.
2006 400 Usda Black Belts awarded.
2007 New Universal Self Defence online web store ranked No.1 on Oz Google search for martial arts.
2009 Usda members manual new edition published on cd.
20xx Thousands of men, women and children across Australia have now enjoyed and benefited from USD training. Peter Burke, with over 40 years experience, continues as Usda President. Much credit must also go to all the dedicated Usda Black Belt instructors. Some have now have over 30 years experience and have a tremendous influence in the continued growth and development of what is now well recognised as a very innovative and unique training system; "Universal Self Defence".